KM420
How To Unlock iPhone On iOS 5.1.1
Step 1:
The first thing you will need to do is Jailbreak your iPhone on the iOS 5.1.1 firmware by visiting iJailbreak's
How To Jailbreak Section
.
Step 2:
Now you will need to launch Cydia so we can add the 3rd party repository UltraSn0w Fixer for 5.1.1 is hosted in. When Cydia is up and running go into the Manage tab, Sources section, tap the edit button and then the add button and add the following source:
Untitled Document

Step 3:
With the source successfully added you will need to simply go into the iParelHos repo section.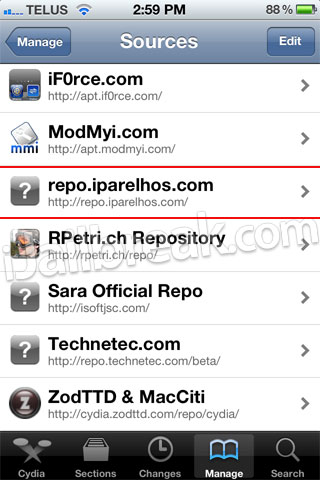 Once you see UltraSn0w Fixer for 5.1.1 simply install it to your iPhone.
Step 4:
When UltraSn0w Fixer has been installed simply go into Cydia's Search tab and search for UltraSn0w.
After you have searched for it and see it, install it to your iPhone also and reboot.
Congratulations! You have just unlocked your iPhone 4 or iPhone 3GS running the iOS 5.1.1 firmware with UltraSn0w Fixer for 5.1.1. If you are still having troubles make sure you installed UltraSn0w Fixer for 5.1.1 before UltraSn0w. For those that did it in the reverse order you will need to uninstall both packages, reboot your iPhone and follow this how to guide once again. Please leave any further questions or thoughts in the comments section below…